Viruses
last authored: Dec 2009, David LaPierre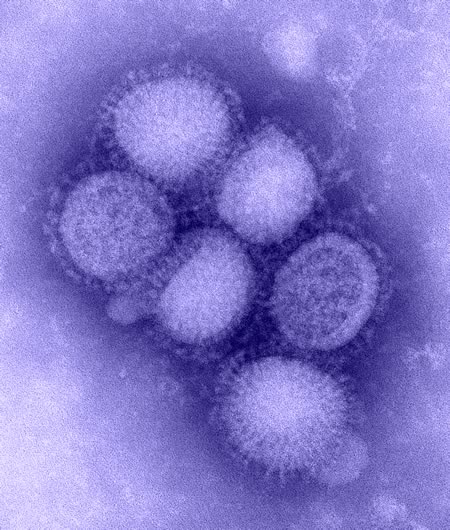 H1N1 influenza virus, CDC
Introduction
Viruses are packages of genetic information contained by protein shells, designed for delivery into host cells for protein expression and replication. They have very small genomes made up of DNA or RNA, with most lacking a nuclear membrane or cell wall. Viruses are much smaller than bacteria, measuring 20-300 nm in diameter.
Their simplicity makes them obligate intracellular parasites, requiring host machinery for replication.
Specific Viruses
Virus Structure
A virus, or virion, contains a nucleocapsid - the genome plaus the protein capsid.
The genome may be DNA or RNA, and can be single-stranded, double-stranded, linear, circular, or segmented.
The capsid contains repeating capsomeres. These are usually helical or isocahedral, with 20 sides.
Some viruses only contain nucleocapsid, but others are covered by a large envelope, with inner proteins and outer lipids, with glycoproteins protruding through.
Structural proteins include the capsid, core nucleic acid packaging proteins, or envelope glycoproteins. Non-structural proteins include enzymes.
Transmission
Viral transmission can occur in many ways. These include
direct personal contact (very common)
enteral (Hepatitis A, gastroenteritis viruses)
airborne spread (varicella)
blood-borne (HIV, hepatitis B and C, CMV)
fomites - objects such as door handles (enteroviruses and other sturdy viruses)
vectors - insects such as mosquitoes (West Nile)
vertical transmission (HIV, Herpes simplex, CMV, rubella)
Effects of Virus Infection
Viruses can cause:
cell lysis following proliferation: cold sores, herpes, chicken pox
latent infection, with or without integration
persistent infection, perhaps accompanied by tissue injury
oncogenesis
no apparent disease (Hepatitis G)
Viruses can have many effects on cells.
no change
multinucleation by cell fusion: herpes or paramyxovirus infection
cytopathic effect (CPE): rounding, inclusion formation, or cell death
hemagglutination
transformation to malignant cells (HPV, EBV, HBV, HCV)
Virus Replication
adhesion to host cell
internalization
uncoating and degradation of nucleocapsid by host proteases
nucleic acid replication

DNA - RNA
RNA -RNA -RNA
RNA - DNA -RNA

further processing of viral proteins (ie glycosylation)
viral assembly
budding or lysis
Virus Diagnosis
clincial features
laboratory tests

histology, cytology
electron microscopy
viral antigen examination, in sera or tissue
antibody testing (rising IgG, IgM, and IgG)
virus isolation
PCR