Indications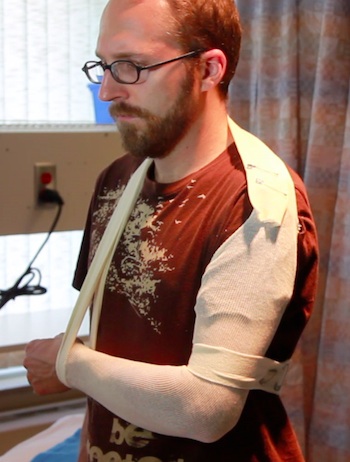 The Vietnam sling is helpful for immobilizing the arm for the following injuries:
clavicle fractures
AC joint separation/sprain
reduced shoulder dislocation/subluxation
stable proximal humeral fractures
The Vietnam sling functions in a similar way to commercially available shoulder immobilizers.
Materials Required
In order to fashion a Vietnam sling, you require:
3" stockinette (wider for larger limbs)
scissors
Safety pins (4)
ABD padding (optional)
Procedure
Begin by draping a length of 3" stockinette over the shoulders of the patient in the standing position. Both ends of stockinette should approximately reach the floor. The patient may now sit if this is more comfortable.

Remove stockinette from patient and fold in half. Make a cut in the stockinette at the midpoint approximately half way through the width of the material. Larger limbs may require wider stockinette.
Slide the affected arm of the patient into the hole in the centre of the stockinette as you would a sleeve, up to the axilla.
Ensure the remaining solid portion of stockinette at the site of the cut lies on the outside of the shoulder. Drape around the patients neck and allow it to hang flat in front of the opposite shoulder.
The entire affected limb should now be covered with stockinette, extending beyond the fingertips of the affected limb and hanging free. The arm should be flexed at approximately 90 degrees at the elbow.

A second cut in the stockinette is now made over the dorsal aspect of the wrist, again approximately half the width of the stockinette. Pull of the remaining stockinette to bring the wrist through the hole.
With the arm still flexed 90 degrees at the elbow and hanging in front of the patient, grasp the stockinette draped over the opposite shoulder and wrap underneath the wrist to cradle it. Ensure the stockinette is lying flat at all times. Throw excess up and over the same shoulder it was draped over. Use two safety pins to attach just above the cradled wrist onto itself and trim off excess. A knot may be used should safety pins not be readily available. The limb should now be cradled and supported by the affixed stockinette.
To now secure the limb to the torso for immobilization purposes, grasp the remaining stockinette and wrap snuggly around the back. Feed the stockinette between the arm and the torso, out and around the affected limb back onto itself. Secure stockinette with safety pins(2) and trim excess. Again, knots may be used should safety pins not be available.
The arm is now flexed to 90 degrees at the elbow and the sling securely supports the arm and immobilizes it to the torso.
ABD padding, cotton material or small towels may be rolled up and inserted into stockinette as sling is applied to pad the neck and wrist.

Ensuring the stockinette lies flat to inhibit pressure points.