Procedures and Surgeries
Introduction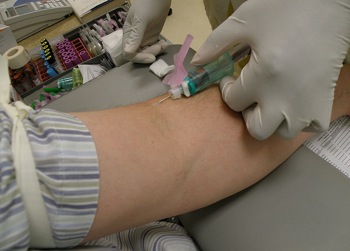 venipuncture - Richard Chambers
Procedures and surgeries are important and common components of diagnosis and treatment for primary care providers. They range from simple and minimally risky to complex and potentially life-threatening. All procedures are a series of motor skills, with significant cognitive and affective requirements as well. As such, the training required to become competent in procedures and surgeries can be very involved.
Over 2 billion people worldwide are estimated to have insufficient access to surgery (Funk et al, 2010).
Procedural and Surgical Care For Primary Care Providers
Surgeons are physicians involved in anatomic correction. General surgeons perform a wide variety of procedures, focusing on the chest and abdomen. Other surgical specialties include obstetrics and gynecology, orthopedics, ear/nose/throat, urology, neurosurgery, plastic surgery, cardiovascular, and many others. However, a vast array of procedures and surgeries may be performed by primary care providers. These core topics are discussed here.
foundations


common
procedures
essential surgeries
and recuscitation
pre-op and
post-op care
Resources and References
References
Funk LM. 2010. Global operating theatre distribution and pulse oximetry supply: an estimation from reported data. Lancet. 376(9746):1055 - 1061.
http://2ndassist.com/what_our_work.htm
http://ices3.wpengine.com/